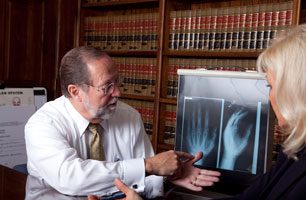 Construction is one of the most dangerous professions. Thankfully, New York's Labor Laws offer protection to individuals who are injured on the job. If you suffered injuries on a construction site, you are probably entitled to compensation. In addition to Workers' Compensation benefits, you may also be entitled to compensation from a personal injury lawsuit.
At Linnan & Associates, we fight aggressively to help our clients receive the full compensation to which they are entitled. If it is not in our client's best interest to settle, we take the case to court. We get to know our clients as individuals, which allows us to understand how their injuries have affected their lives and to help ensure our clients are adequately compensated. This individualized approach is how Linnan & Associates stays WITH EVERY CLIENT, EVERY STEP OF THE WAY. Our team of lawyers represents individuals in Albany, Cooperstown, Oneonta, Glens Falls, Hudson, Catskill and throughout New York who are injured on construction site accidents, including injuries caused by:
Ladder Kickouts
Scaffolding Collapse
Trench Collapse
How Much Compensation Could I Receive?
If you suffered an injury while you were working, you are covered by New York State Workers' Compensation, which provides compensation based on a percentage of your normal pay.
New York State also has strong labor laws designed to protect workers from unsafe working conditions. If your accident and injury were caused by a violation of the Labor Law, or a violation of the Occupational Safety and Health Administration (OSHA) standards, you may be entitled to substantial additional compensation. Linnan & Associates has represented numerous clients in cases involving violations of the Labor Law. We are here to protect your legal rights and to obtain maximum monetary recovery for our clients. In reaching this goal we are WITH EVERY CLIENT, EVERY STEP OF THE WAY.
We can provide a total evaluation of your case and an expert opinion as to any additional compensation to which you may be entitled. Learn more about what our attorneys provide by scheduling a free initial consultation. We can be reached through an online contact form or by calling 518-449-5400.