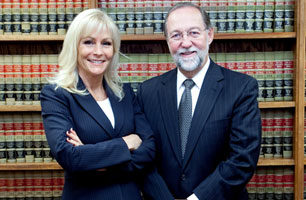 Linnan & Fallon, LLP, is uniquely qualified to pursue medical malpractice claims. Our distinct combination of medical and legal experience gives our firm the ability to properly evaluate, prepare and represent our clients in medical malpractice cases.
Attorney James Linnan has extensive years of trial experience and has obtained numerous favorable settlements and verdicts for his clients. He has taken more than 100 cases to verdict when settling was not in the clients' best interest. In addition to having medical malpractice litigation experience, Attorney Charlene Fallon has numerous years of experience in the medical field. In addition to being an attorney she is also a Registered Nurse.
Our attorneys work as a team to be BEHIND EVERY CLIENT, EVERY STEP OF THE WAY and to give our clients the representation they need in a range of medical malpractice cases. We represent clients in Albany, Cooperstown, Oneonta, Glens Falls, Hudson, Catskill and throughout New York, in cases including:
Do I Have A Medical Malpractice Case?
Medical malpractice is nothing more or less than the negligence or carelessness of a health care provider. If your doctor, nurse, hospital or other health care provider was negligent or careless in giving you or your loved one care, and that negligence caused you or your loved one an injury, then you may be entitled to compensation for that injury.
Linnan & Fallon have successfully represented numerous individuals who have suffered injuries because of the negligence or carelessness of health care providers. Past results are not a guarantee of future results, but reading a summary of a few of our successful medical malpractice cases can help demonstrate the scope of our practice.
If you or a loved one suffered injuries because of the negligence or carelessness of a health care provider, our team of lawyers can help you receive the compensation you need and deserve. Learn more about what we offer by scheduling a free initial consultation. We can be reached through an online contact form or by calling 518-449-5400.