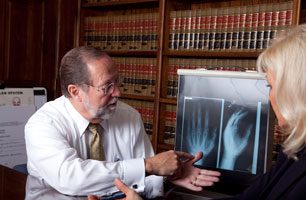 In today's world of modern medicine and advanced screening techniques, failure to diagnose certain types of cancer, illnesses or other health conditions in a timely fashion may be medical malpractice. Some diseases, when caught early, are completely curable. However, if those same illnesses progress, they can be fatal. The earlier the diagnosis, the better the chances for a cure and your survival.
If you or a loved one was diagnosed with an advanced stage of cancer, or if a health care provider in an emergency room failed to provide immediate attention for symptoms of a heart attack or stroke, you or your loved one may be the victim of medical malpractice. If you are the victim of medical malpractice, you need the experienced team of Linnan & Associates. We are dedicated to be WITH EVERY CLIENT, EVERY STEP OF THE WAY.
At Linnan & Associates, we have nearly 50 years of combined legal experience and Attorney We know the standards of care that health care providers are expected to follow, and we have decades of experience holding them liable for failing to do so. Our attorneys represent individuals in Albany, Cooperstown, Oneonta, Glens Falls, Hudson, Catskill and throughout New York in delayed diagnosis or misdiagnosis cases involving:
Breast, Colon and Lung Cancer
Stroke
Heart Attack
Pulmonary Embolism
Lyme Disease
Delayed Cancer Diagnosis
If you have regular medical appointments and you are diagnosed with advanced melanoma, breast cancer or colon cancer, you may be the victim of medical malpractice. When caught in the early stages, breast cancer and colon cancer are both 100 percent curable.
The failure of a physician or health care provider to recognize and initiate treatment can be life-changing or fatal. With the diagnostic tests that are available, there is no excuse for a delayed diagnosis. If your doctor or health care provider missed the warning signs of cancer, heart attack, stroke or another serious illness, Linnan & Associates can help you receive the compensation you deserve. Learn more about the representation our lawyers provide by scheduling your free initial consultation. We can be reached through an online contact form or by calling 518-449-5400.